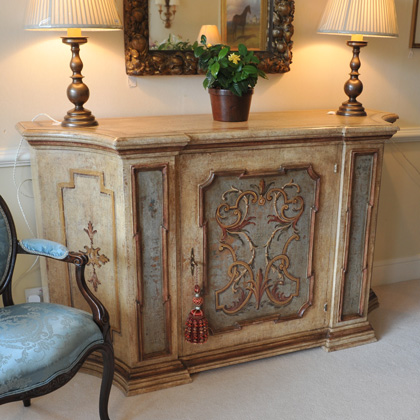 Painted Furniture
Elaine Phillips Antiques and Interiors have, for the past 30 years, designed a range of hand painted furniture, mirrors and lamps. These are hand made in the traditional way by craftsmen, some of whom are second and third generation carvers, painters and gilders – each piece is hand painted or gilded to blend with either classic or contemporary settings. Our latest range, some items of which you can view on our web site or in our showrooms in Harrogate, uses a subtle palette of cream, grey, coffee, pale aqua and ivory tones. This works very well on its own or combined with antique furniture to give a slightly 'sharper' and more up to date feel for a classic room/home.
As all our painted furniture, mirrors and lamps are hand made and painted; much of our work is based on custom made items for clients. These have included television cabinets, wardrobes, dressers, dressing tables etc.
On many occasions these have been made in sections, (due to narrow/restricted access to rooms), which can be assembled on site by our team. Any piece can be made to match any interior – be it with or without design, any colour, any size, any shape. We can also copy pieces. The normal delivery time is 10-12 weeks.
View a small selection of items below.
We can provide you with more information and assistance if you wish to contact us.